We embroider and print designs on patterns and ready-made products such as clothes (advertising, sports and working clothes), hats, bags, backpacks, towels, bedding, etc.
Embroidery
Is the most durable and smartest way for clothing marking. For embroidery we need an embroidery programme, which is prepared by us, however, we can also use the programme provided by the customer. In addition to direct embroidery, we also do stripes, emblems, school badges as well as individual identification badges.
Heat transfer foils (flex, flock, reflection).
This is a foil cut by a cutting plotter on the basis of a graphic design in the form of vector graphics. The logo prepared in this way is then hot-stamped using a press machine at a high temperature.
The printed design made in this way is extremely durable and accurate.
Sublimation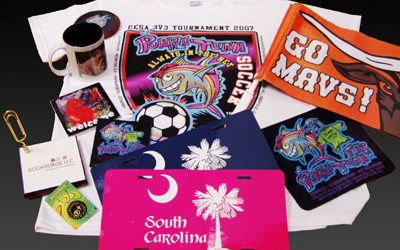 Sublimation, also known as DS is a technique that consist the transfer of ink from the transfer material to advertising gadget or clothing at high temperatures. Logo is reflected in all colors, the print is multicolored with tonal gradations and shadows. Printing can be done on many types of white or light colored fabrics and surfaces eg. For advertising clothing, sportswear, mugs, plates, mousepads, keychains, leashes, bags, etc.
The above-mentioned markings are made on clothes and textiles delivered by the customer. However, it is also possible to order clothes or textiles in our company. To find more information about it, please see the section "OFFER". If you have any questions, please complete the contact form, which can be found in the section "CONTACT"
Let's do business together!